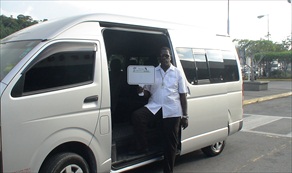 Jamaica is a beautiful island that is absolutely rich in culture and warm people. Your visit to our shores will enrich your life with fascinating and memorable experiences. Whether this is your first visit or you are a returning visitor, you will find that the warmth of the sunshine serves to complement the warm smiles of our people to make you feel welcome and at ease. Your vacation experience in Jamaica will not be complete if you deny yourself the opportunity to experience the unique and exciting attractions that our island has to offer.

Our ground transportation services are designed in order to preserve an enduring relationship between our clients and us. Our aim is to provide our clients with secure, luxurious and reliable transportation.

Our transportation service uses only licensed and insured professional drivers, who are always courteous, resourceful and appropriately dressed; and who have been honed by many years of challenging and varied transportation experiences.

Our drivers will ensure your comfort and stress-free transportation, be it airport transfers or a memorable family excursion. As our client, you are also our guest. We look forward to your next pick-up, so for transportation service that will have you riding in style 24 hours a day, 7 days a week, call Jamaica Exquisite Transfer and Tours today.

Our company is committed to providing you with the latest and highest quality ground transportation service.
Thanks for choosing Jamaica Exquisite Transfer and Tours.
Please email us or call to speak with a tour specialist.
Phone: 1-876-821-3447 - Jamaica
(954) - 353-1913 - USA
Email: info@jamaicaexquisitetours.com